Dear Friends,
Word just reached us of the death of my longtime friend, blues master James Cotton. I had known James since the 1970s and had the great pleasure of working with him on the production of four Alligator albums. Next time, I plan to share some reminiscences celebrating the life of this wonderful artist and warm, sweet, humble and fun-loving man. The remainder of this letter had already been composed before James' passing.
---
Two weeks ago the historic Grand Opera House, a gorgeous restored 19th century theatre in Oshkosh, Wisconsin, celebrated their first Alligator Blues Festival. In two days, Toronzo Cannon, Marcia Ball, Moreland & Arbuckle, Lil' Ed & The Blues Imperials, Selwyn Birchwood and a harmonica summit with Corky Siegel, Billy Boy Arnold and Billy Branch all gave wonderful performances.
Toronzo again proved why he's Chicago's new blues giant. Marcia was her usual totally classy, totally fun self, tearing up the keyboards, delivering Texas boogie woogie and New Orleans R&B. Moreland & Arbuckle showed the raw power and subtlety that can be created by just a harmonica, a drum set and a cigar box guitar, playing songs from Promised Land Or Bust. Lil' Ed performed songs from his recent Big Sound album while dominating the stage and crawling up the aisle on his knees. And Corky, Billy and Billy Boy (ably supported by Billy Flynn, Felton Crews and Blaze Thomas) got a standing ovation for their three-harp finale.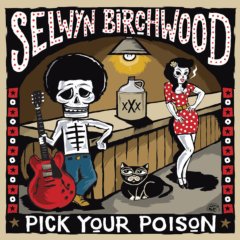 Selwyn Birchwood, roaming the stage barefoot, debuted some of the new songs from his upcoming album Pick Your Poison. They included a rollicking gospel-styled romp called Even The Saved Need Saving and a searing slow blues, Heavy Heart. The record, due May 19, represents a huge step forward for this terrific young talent. From raw and raucous, Hill Country-inspired jams to rocking R&B to soul-baring blues and even an acoustic track, every song shows Selwyn's fresh musical and lyrical vision. His guitars, both regular and lap steel, interplay with the band's taut, funky rhythms and fat-toned baritone sax from longtime band member Regi Oliver. It's an ear-opening experience.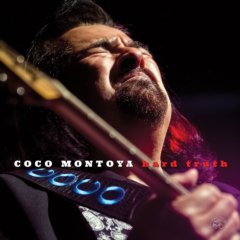 As you read this, we're releasing Coco Montoya's triumphant return to Alligator, Hard Truth. It includes everything that blues fans love about Coco –scintillating yet lyrical guitar, passionate vocals, tough grooves and songs that really tell a story. Of course the spirit of Coco's mentor, Albert Collins, permeates the record. I don't know which is my favorite track –the joyfully upbeat I Want To Shout About It, the rocking Before The Bullets Fly, the deeply soulful Where Can A Man Go From Here? (one of Coco's best vocal performances ever) or his high-intensity take on Albert's The Moon Is Full. You can hear samples on our online jukebox at www.alligator.com. Coco will kick off a major national tour at the end of March (dates on our website). Miss him at your own risk!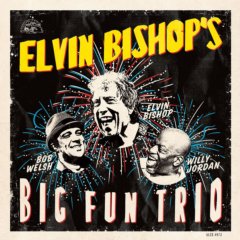 Fans are loving Elvin Bishop's Big Fun Trio, the unpretentious, smile-invoking, stripped-down combo of Elvin on guitar and vocals, Willy Jordan on percussion and vocals, and Bob Welsh on piano and guitar. Full of spontaneity and good humor, the music rocks with the kind of inspired "so loose it's tight" musicianship that can only be created by players with near-telepathic communication and deep understanding of the blues.
I told you last time about how much fun it was to hear "The World's Oldest Teenager," Rufus Thomas, tell stories about his years on Beale Street as a DJ and entertainer and his time as a novelty song hit maker on Stax Records. Rufus brought a wisdom and sense of humor to every story, even those that acknowledged the pain of living in racially segregated Memphis during much of his long life. I'm glad to see that his daughter Vaneese is nominated for a Blues Music Award as Soul Blues Female Artist of the Year.
More next time,
Bruce Iglauer