Dear friends,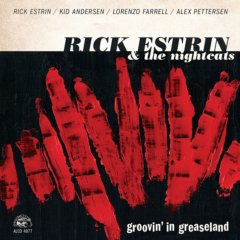 We're getting great response to Rick Estrin & The Nightcats' new release, Groovin' In Greaseland. Many people are declaring it the best album yet by this terrific band. The interplay of Rick's fat-toned, swinging harp, Kid Andersen's wild guitar, Lorenzo Farrell's subtle keys and Alex Pettersen's "less is more" drums is near-telepathic. Rick again proves that he's one of the blues' best songwriters, as well as its sharpest dresser. You can hear sample tracks on the jukebox on our website, alligator.com.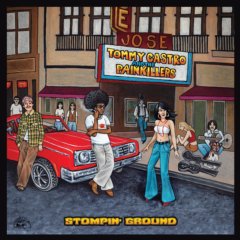 At the end of September we're releasing Stompin' Ground, the latest album by Tommy Castro & The Painkillers. Tommy mixes seven instantly memorable originals with five of his favorites by other artists. The record is a tribute to Tommy's early years, growing up on the tough side of San Jose, California long before it became Silicon Valley. Tommy hung out with both the hippies, who were listening to blues and socially conscious rock, and with the young Mexican lowriders who were in love with soul music. Inspired by those influences, the new album blends blues, rock and soul and some songs that address today's crazy mixed-up world. All the performances are packed with Tommy's energy and passion, and the Painkillers provide the skin-tight support that can only come from playing hundreds of gigs together. Tommy's friends Mike Zito, Danielle Nicole, David Hidalgo and Charlie Musselwhite all guest. Tommy hits the road at the end of September for a major tour, so you can hear his new songs live. You can find all his dates and those of every Alligator artist in the "On Tour" section of alligator.com.
As I told you last time, the blues world lost one of its greatest drummers, Casey Jones, on May 3, at the age of 77. Casey was one of the very best I ever worked with. He brought a spark to the stage and the studio; his playing made you happy, just like his giant smile. Casey's drumming was perfectly "in the pocket"; he knew just how to groove the song and lock everything together without getting in the way. Casey was also a fine singer, so he knew how to avoid overriding the vocalist. When Dick Shurman and I were planning Albert Collins' Alligator debut, Ice Pickin', we chose Casey as the drummer. He and Albert clicked so well that Casey became a member of Albert's touring band, The Icebreakers, for a decade. He played on six of Albert's albums, as well as on albums by Lonnie Brooks and A.C. Reed, and on all three of our Johnny Winter albums. If you want to hear the genius of Casey Jones, listen to his playing on Black Cat Bone on Showdown!, the supersession by Albert Collins, Robert Cray and Johnny Copeland. It's brilliant for the pauses, the beats he chooses to leave out, as well as for the perfect, subtle delay of the snare drum hit on the fourth beat of each measure. The whole song breathes, and his syncopation creates the funkiness that is a signature of the song. Later on, Casey chose to devote himself to his vocals. He was a very good singer, but an extraordinary drummer and as nice a guy as you could ever know.
I was telling you about some of the records that Alligator released which were produced in Sanford, Florida by my friend Bob Greenlee at his home studio, Kingsnake. One legendary artist whom I encountered as a result of our informal licensing was the bayou harmonica master Lazy Lester. Lester cut a new album for Bob that we released in 1988 as Harp And Soul. It captured the sound and spirit of Lester's Excello label hits cut in south Louisiana in the 1950s and 60s –swampy grooves, laid-back, thick-tongued vocals and Lester's piercing, beautifully simple harmonica. Lester came to Chicago for the cover photos, and we spent an afternoon shooting him in Lincoln Park while he dispensed Deep South philosophy, told Excello stories, and consumed a good deal of beer. What a character!
We also licensed two albums from Bob by the (then) young blues giant Lucky Peterson. A triple threat on keyboards, guitar and vocals, Lucky brought a huge level of intensity and soulfulness to every song. He had grown up in the blues culture; his father, James Peterson, both sang and operated the Governor's Inn, a chitlin' circuit club in Buffalo, New York. Lucky was such a child prodigy that he had appeared on the Tonight Show at the age of five playing organ. And after that, his talent just kept growing. If things had gone differently, Lucky could have been one of the biggest stars in the blues.
More next time,
Bruce Iglauer