Dear friends,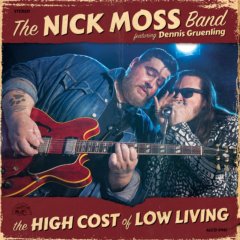 We've just released The High Cost Of Low Living by The Nick Moss Band Featuring Dennis Gruenling. We're already getting great response to this tough, straight-ahead Chicago blues record. You can feel the raw energy passing back and forth between Nick's hard-edged guitar and vocals and Dennis' powerhouse harp, both inspired by the top-notch band. They play proudly in the great 1950s and 60s Windy City tradition, with each player feeding emotion and intensity to the others. Every member contributes to the big, raw sound. This is a necessary album for any fan of real deal Chicago blues. Of course you can hear tracks on our online jukebox at alligator.com.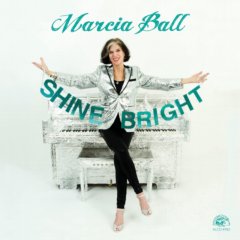 On April 20, we'll be presenting Marcia Ball's brand new album, Shine Bright, produced by Steve Berlin of Los Lobos. It's full of everything you love about Marcia—rollicking two-fisted piano, soulful vocals, a kickass band of Texas and Louisiana hotshots, and Marcia's wonderful songwriting. The songs range from roadhouse boogie woogie to deep R&B ballads to some serious social commentary (but with a beat you can dance to). Marcia is celebrating her 50th year as a professional musician, and Shine Bright is a perfect example of the music that has won her legions of fans around the world.
For those of you who stream music online, I'm happy to tell you that the nice folks at Apple Music have invited me to create some playlists that you can enjoy. Just go to Apple Music's Blues genre page and look for the big green Alligator logo. Right now there are nine playlists, including not only Alligator artists but other blues giants. I'll add more playlists soon, and I'd welcome your suggestions for playlist themes.
Before I do some reminiscing, I want to say "goodbye" to two members of our community who passed away recently. Eddie Shaw was one of the essential West Side bluesmen and a beloved figure in our musical world. His huge sax tone and big, warm vocals won fans everywhere. Eddie was one of the blues' great road warriors, driving thousands of miles a year to deliver fiery performances at clubs and festivals. Eddie ran the first blues club I ever visited back in 1969 –a storefront bar on West Madison Street (years before he took over the 1815 Club). I remember how welcome he made me feel, and how much love and respect he got from his fellow musicians. Eddie did a lot of recording both as a leader and sideman. I'm proud that four of his songs graced Volume I of Alligator's Living Chicago Blues series, released back in 1978.
Ice Cube Slim, known on his birth certificate as Dan Untermyer, was one of the most colorful figures on the blues scene. Slim was a tireless champion of Louisiana music. As a DJ on KUSP in Santa Cruz, California, and the founder of Bon Ton West, which promoted and managed Louisiana artists, he was a larger-than-life presence at blues events across the country. It was Slim who convinced me to fly out to California to see an artist he was managing—Katie Webster, The Swamp Boogie Queen. He told me I'd fall in love with her rocking piano, gospel-tinged voice and high-spirited personality, and he was right. After she signed with Alligator, Slim co-produced her three Alligator albums, suggesting songs and recruiting world-class guest players for the sessions.
Now, for some more of The Alligator Story. Back in 1989, I got a chance to release a new album by one of my musical heroes –Clarence "Gatemouth" Brown. It was Gatemouth who supercharged T-Bone Walker's guitar style back in the late 1940s and created some of the most exciting records in blues history. His career stretched over the next six decades. Gate thought the label "bluesman" was too limited for his talent. He preferred to describe what he played as "American Music Texas Style." He could easily mix swinging jazz, zydeco and even a taste of country into his music, and deliver solos on violin, mandolin, piano, drums and harp as well as guitar. When his manager, Jim Bateman, approached me with a newly-produced album, I was thrilled. Standing My Ground, cut in New Orleans, showcased all of Gate's talent, backed by his own hand-picked band. It scored a Grammy nomination, and deservedly so. I can't tell you how proud I was to have this groundbreaking musician on Alligator.
More next time,
Bruce Iglauer