Dear friends,
I just returned from the Blues Music Awards in Memphis. It's a great event and a must-attend for any blues fan. Besides the music-packed awards show, there are plenty of multi-artist club gigs (many of them benefits for good causes) on the nights before and after. I was very happy for Rick Estrin, who won Traditional Blues Male Artist, Song Of The Year for The Blues Ain't Going Nowhere and the one he wanted most—Band Of The Year. Rick is justifiably proud of the multi-talented Nightcats team of Kid Andersen on guitar, Lorenzo Farrell on keyboards and Alex Pettersen on drums, along with Rick on harp and vocals. They are one of the tightest and most creative units in the blues, as proven by their latest release, Groovin' In Greaseland. Alligator label mate Curtis Salgado again scored Soul Blues Male Artist Of The Year. In their acceptance speeches, both Rick and Curtis humbly reminded the audience that they are carrying on a tradition created by African American artists who have been their mentors and inspirations.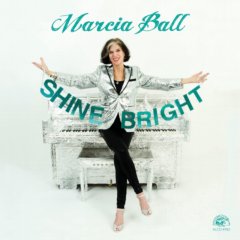 Reaction to Marcia Ball's new album, Shine Bright, has been nothing less than phenomenal. Besides winning glowing reviews, she was interviewed on NPR's Weekend Edition show, which played tracks from the new album and went into depth about her bold songwriting, her Gulf Coast roots, and her life on the road. Marcia was just named the 2018 Texas State Musician and will be inducted into the Austin City Limits TV show's Hall of Fame in October, along with Ray Charles and Los Lobos (great company, eh?). Marcia is celebrating her 50th year as a professional musician, still mixing Texas roadhouse blues and boogie with New Orleans R&B and her own wonderful songs. Shine Bright is an exhilarating listen created by a visionary artist. And it's loads of fun!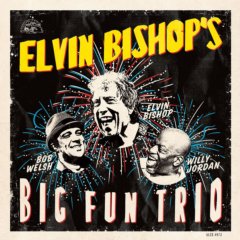 A few weeks ago, we received a batch of newly-recorded tracks from Elvin Bishop's Big Fun Trio, led off by a new song called Something Smells Funky 'Round Here. It's a hilarious, incisive blues commentary on the current chaos in Washington D.C., delivered with Elvin's signature good-natured humor and the Big Fun Trio's terrific, spontaneous musicianship. The song will be the title track for the Trio's second album. It's full of proudly rough-edged blues from Elvin, deeply soulful vocalist/percussionist Willy Jordan and the masterful guitarist and pianist Bob Welsh. The album features four new originals and fun-filled, stripped-down interpretations of songs from Clifton Chenier, Jackie Wilson, Ann Peebles and more. Watch for Something Smells Funky 'Round Here in early July.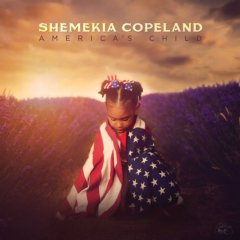 Speaking of upcoming releases, Shemekia Copeland's new album, America's Child, will be on the market in early September. It's her most fearless record. She brings her giant, soulful voice to some of the deepest songs she's ever sung, including seven written for her by some of America's most powerful songwriters. And speaking of female artists, we've just signed Lindsay Beaver, the singing/songwriting drummer who used to front Canada's 24th Street Wailers. She's recently moved to Austin, where she's been cutting raw, rocking songs that any blues fan should love. Look for her Alligator debut in October.
And now back to the Alligator Story. Of all the female artists who have recorded for Alligator, the most unlikely success story was that of Saffire—The Uppity Blues Women. Around 1987, I received a self-produced cassette from this Virginia-based acoustic blues trio, which was made up of three feisty middle-aged women. I was surprised to hear a group with three lead vocalists, each with her own distinct musical personality. Although I said "no" to their tape (there were too many familiar songs), I began to hear a buzz about them from other blues fans. In 1988, I attended the Blues Music Awards dinner, where Saffire performed, and learned what all the buzz was about. Ann Rabson played two-fisted piano and sang serious traditional blues. Guitarist Gaye Adegbalola's flirtatious stage presence and big-voiced vocals were squarely in the tradition of Bessie Smith. And Earlene Lewis, the group's bassist, brought a country twang into their music. The highlight of the set was Gaye's original song Middle Aged Blues Boogie, a bawdy tribute to the pleasure of affairs between older women and younger men. The audience loved them, and so did I.
More next time,
Bruce Iglauer