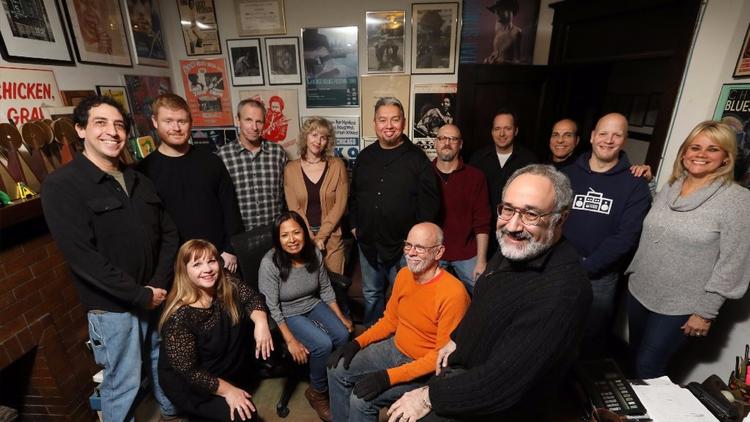 Alligator Records founder Bruce Iglauer poses in his office recently in the Rogers Park neighborhood. (Chris Walker/Chicago Tribune)
Nearly half a century ago, an open-eared young man who grew up in Michigan and Ohio found his way to the South Side of Chicago and was shaken by what he heard: the blues.
Bruce Iglauer soon went about creating Alligator Records, which today stands as one of the most enduring and revered independent blues labels in the world, its catalog holding inextinguishable works by Hound Dog Taylor, Big Walter Horton, Koko Taylor, Lonnie Brooks, Albert Collins, Buddy Guy, Magic Slim, James Cotton, Robert Cray, Johnny Copeland, Jimmy Johnson, Junior Wells, Billy Branch, Shemekia Copeland and other masters.
That the label Iglauer founded in 1971 still exists can be considered something close to a miracle. For to make it to 2018, Iglauer has had to face terrifying financial pressures, musicians with sometimes rough personal problems, the implosion of the record-distribution network in the 1990s, the near-extinction of record stores, the painful (still ongoing) transition to streaming and other, seemingly unending headwinds.
For those who wonder how he did it – and why – Iglauer finally has laid out the tale in "Bitten by the Blues: The Alligator Records Story" (University of Chicago Press), co-authored with Northern Illinois University professor Patrick A. Roberts. The book documents, in vivid detail, Iglauer's first heady infatuation with the blues, followed by the joys, heartbreaks and shocks he encountered on his way to today. In these pages, Iglauer revels in artistic triumphs, unsparingly confesses his mistakes and oversights and tries to convince everyone – including himself – that there's a future for both Alligator Records and the blues.
So why did he decide to reveal all (or at least a great deal of it) now?
"It's a story I've been wanting to tell for a long time," says Iglauer. "I do a lot of interviews, and I'm often asked the same questions. I've done Q-and-A's at various blues festivals – the fans are always wanting to know: What kind of person was Koko Taylor? What kind of person was Albert Collins? How did you make 'Showdown!'?" he says, referencing the landmark, 1985 Alligator album featuring Collins, Cray and Johnny Copeland.
"So I'd thought about a book, but I had never really disciplined myself to sit down and start writing one."
A chance meeting with NIU prof/author Roberts in 2010 got the adventure started, the scholar suggesting a book was essential.
"Here's a story that would combine a number of really fascinating narratives," explains Roberts, quickly listing them.
"The history of the music, the history of these (blues) personalities, portraits of the personalities. You've got a history of Chicago over the last 50, 60 years. We've got inside knowledge about how the record industry has changed over the last 50 years. And we've got the story of this man who grew up, more or less in Cincinnati, and somehow, remarkably, has managed to keep the independent blues label alive for almost 50 years.
"I thought all of that would fit together in a very nice, rich tapestry."
Roberts began recording interviews with Iglauer in 2011, the two working in subsequent years on shaping 100-plus hours of talk into a manuscript that would be not merely an oral history but something richer: a memoir with historical underpinnings.
Certain portions of the book unfold poetically, as in a passage in which Iglauer describes encountering the music in long-gone Florence's Lounge on the South Side:
"From the moment I walked in, sheets of distorted electric guitar filled the room. I could hear the unmistakable sound of steel on steel as a slide tore up and down the strings. Drums pounded out a shuffle beat so infectious and elemental that even I could dance to it. … That afternoon I fell in love with Florence's and with Hound Dog Taylor & The HouseRockers. The nights that I had spent in the Chicago blues clubs had given me a glimpse of a parallel universe – another America, a black America with its own culture and its own wonderful music. It was an America hidden in big-city ghettos and small southern towns unknown to my friends and me. At Florence's, the door to that parallel universe swung open, and I eagerly stepped through."
In subsequent pages, Iglauer reminisces on studio sessions with blues giants (some cathartic, some disastrous), describes low-budget sales trips (he slept in his car), recalls close encounters with a variety of swindlers and other vicissitudes of the blues life.
Iglauer persevered. Yet despite all the indelible music Iglauer and colleagues have captured, the book's last pages feel bittersweet. For notwithstanding the intrepid label's achievements, Iglauer believes the business model that has supported Alligator and other labels small and large cannot last.
"The labels' traditional practice of paying for the recording, paying the musicians, distributing the music, promoting the music, and selling the music, and then paying royalties to the artists and song publishers, is going to end," he writes.
"It's also clear to me that physical and digital sales are ultimately doomed. At Alligator, we're being forced by declining CD sales to take a number of older titles out of print (that is, to cease manufacturing them), particularly those by musicians who are deceased or not touring, because without sales at live performances, it isn't economically viable to pay the higher prices for manufacturing small quantities of those recordings. It's emotionally painful for me, but it seems inevitable that sometime in the future we will have no more physical releases. But digital sales are falling too."
Which is why "the last few years have been a big struggle," Iglauer tells me. "A lot of our fans have not migrated to streaming services, which apparently will be the future of recorded music. And many (blues fans) long for record stores and still patronize the ones that are left."
In other words, Alligator's hardcore fans prefer a physical product – CDs – that Iglauer sees as going extinct. And unlike the major labels, which "are saying that half of their audience is coming from streaming services, for us it's much less," he adds.
So does Alligator have a future?
"I think so," says Iglauer. "It always has been a modest company and will continue to be a modest company.
"One of the things I've been working on is having our music available worldwide. This is beginning to happen. As we speak, the catalog is being made available by the three biggest streaming services in China. This has happened since we wrote the book.
"I think that part of what will keep labels like Alligator alive is that our music will be much more available in parts of the world where it hasn't been available before. I have a belief, a conviction, that if we can reach a worldwide audience and make our music contemporary, there will be a future for labels like ours."
He also holds out hope that today's blues artists will help sustain the music and the label, citing Shemekia Copeland (whom he rightly describes in the book as "the finest female blues singer of her generation"), Selwyn Birchwood, Lindsay Beaver, Toronzo Cannon and others.
When will Iglauer, who's 71, retire?
"I'm sorry," he says instantly. "I think you just used a word that isn't in my vocabulary."
Bruce Iglauer and Patrick A. Roberts will be appearing Wednesday, Nov. 28 at Bookends & Beginnings, 1712 Sherman Avenue, Alley #1 in Evanston from 6-8 p.m., for music and book signings.

By Chicago Tribune reporter Howard Reich. Read the full "Alligator Records boss Bruce Iglauer finally tells the story behind the legendary Chicago blues label" story in the Chicago Tribune.