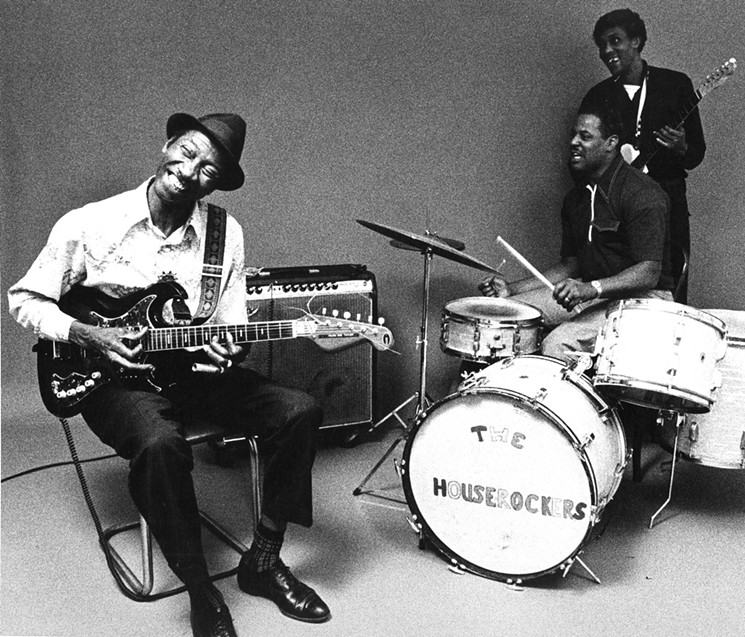 The act that started it all: Hound Dog Taylor & The HouseRockers, 1974. Left to right: Hound Dog Taylor, Ted Harvey, and Brewer Phillips – Photo by Bob Keeling / Alligator Records.
"Throughout, Iglauer regales the readers with stories of Alligator artists in the studio and on the road."

BOB RUGGIERO / HOUSTON PRESS
Music business entrepreneurs start record labels for all sorts of reasons, but few have the story of Bruce Iglauer and the blues-centric Alligator Records. Iglauer – in the late '60s a white, hippie-ish, bespectacled guy from the Midwest with long hair, a beard, and a passion for contemporary blues just wanted to have a document of his favorite band.
From the first moment he stepped into Chicago's small club Florence's Lounge and heard the raw, minimalist blues rock of singer/guitarist Hound Dog Taylor and the HouseRockers (with Brewer Phillips on second guitar and Ted Harvey on drums), he knew he wanted to get that music down on vinyl. From that single revelation nearly 50 years ago, Alligator Records has grown into the best-known and a much-cherished blues-centric label with over 300 album releases since Hound Dog's 1971 debut.
Iglauer is particularly evocative when describing his forays into the heart of Chicago's blues clubs where he was often the only white face in places with names like Big Duke's Flower Lounge, Necktie Nate's, and the Rat Trap. …
He also writes about the rich history of independent – often blues and jazz-oriented – record labels and the very old school approach that he and others would have to take to get their records heard and sold. Iglauer recalls loading his car up with hundreds of copies of his early releases and driving around the country to visit radio stations that would play it, records stores that would stock it, and music distributors who would carry it while trying to learn a business with no handbook. …
Throughout, Iglauer regales the readers with stories of Alligator artists in the studio and on the road, from their earliest musicians (Hound Dog Taylor, Son Seals, Koko Taylor), the mid-era performers (Johnny Winter, Albert Collins, Luther Brooks), up to their roster today (Shemekia Copeland, JJ Grey and Mofro, Tommy Castro). …
By Bob Ruggiero. Read the full "Things to read: The story of Alligator Records and its blues-centric label" article at Houston Press.